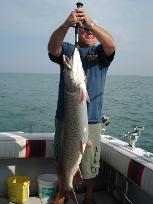 During the fishing season, we cycle through three different marinas to ensure we follow the fish as they pass through our zones. That is how we maximize our chances for successful trips.
Make sure to check out each marina!!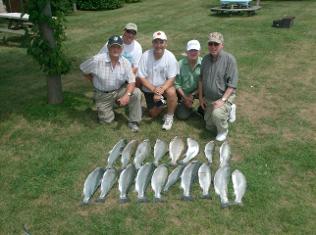 The day starts at the dock in the morning. The gear will be loaded and we will be on the water no later than 7:00 a.m. (unless other arrangements are made). Depending on our location, we can spend anywhere from ten minutes to half an hour on route to the fish. Feel free to take in the sights and smells of the lake while arguing about who will get the biggest fish. Once we reach the prime fishing location, Captain Ron will set up the lines and the adventure begins. With hopes high and fingers crossed, we should have a busy day of reeling fish in and resetting lines. Lunch will be eaten out on the boat. You can munch on anything from sandwiches to cold pizza; pretty much anything you can fit in your coolers. We eat on the boat for several reasons, but mainly to maximize our fishing time. Who wants to waste time driving back to shore, just to spend 15 minutes eating, and then driving back out? We wouldn't want to lose that school of fish we are trolling through, now would we? After several hours of reeling in fish, we will head back to the docks where pictures can be taken so you may never forget how awesome it is to fish in Canada. Fish cleaning and packaging for easy transport is available, if you prefer to have it all done before the trip home. The whole goal here is to enjoy every minute of this experience!